Collaborative projects in the realm of new media are not that uncommon, but the coordination of one that takes into account the copyright laws of two distinct jurisdictions, is. A group of Melbourne and South Korean artists collaborating on Synesthesia Urbania have created a project that highlights the deeper insights to the cultures of both South Korea and Australia.
Synesthesia Urbania is a collaborative project between South Korean and Australian artists. It incorporates visual and sound recordings from both countries and will culminate with an audio/visual performance at Art Center Nabi in the first quarter of 2006. The performance will comprise of multi-screen projection of 3D scaled replication of the "volume" of space that is the precincts of Myoung-Dong (Seoul) and Smith Street (Melbourne). This will be a screen based performance environment, to accompany in real time the Synesthesia Urbania score. It will also comprise of electroacoustic collaborative composition performed as a structured improvisation by Australian and Korean composer/performers.
The performance is the culmination of an online dialogue between public participants from Myoung-Dong (Seoul, South Korea) and the city of Melbourne (Australia) and commissioned artists contributing compositional elements to the final work. Works collected from Synesthesia Urbania artists will over time become the Synesthesia Urbania Commons, covered by Creative Commons copyright license that allows them to be copied and reused for any creative purpose.
This article gives insight into the history behind this recently developed project, and how both Korean and Australian versions of Creative Commons or Open Access licensing were utilised and explored as a vital part of this process.
Taipei, 2001: how it began
In 2001 Toy Satellite, a non-profit new media for cultural development group, produce the opening of the Taipei International Arts Festival, Undercurrents a collaborative project with Australian and Taiwanese sound and video artists, the scale of which far exceeded the expectations of the participating artists.
We had anticipated a more intimate event, but we found ourselves performing in one of the largest venues in Taipei at that time, with largest video projectors we had ever seen. The venue was so large it dwarfed the 3000+ audience who were a mix of residents, artists, politicians and a large number of festival staff and volunteers. Press coverage was extensive, including a short documentary produced for a local television station.
Undercurrents was the precursor project to Synesthesia Urbania, and was the cumulative result of a series of experiments between video artists John Power, Kim Bounds and myself, collaborating towards an aural and visual language from which we could improvise multi-tiered narratives in real-time. Naturally this relied on heavily sampling from our own personal archives, our own work and accessing resources from the cultural domains around us.
With some help from Magnum Music, a Taiwanese record label and the Australia China Council we were able to tour Undercurrents in Australia. At the end of the project we had produced a sizable body of work but due to time, financial and copyright constraints we were unable to release any form of compilation. Of particular concern, was that photos taken of the Taipei performance, were entirely owned by the only photographer covering the event. Even though we received digital copies of these photographs there was a reprint fee despite us not being informed prior to the event that we would not own the rights to any photos taken of ourselves! This is the nature of the law, but it is something that most artists fail to consider.
The emergence of Creative Commons in Australia helps to ensured these kinds of constraints would not hinder the production and the distribution of our content again.
Manila, 2004: common purpose
In 2004 the Asia Internet Rights Forum was held, at which Jinbonet Progressive Network from Korea and c2o/Toy Satellite (made up of APC.au Ltd including Community Communications Online, Toy Satellite and Secession Records) from Melbourne were the only organisations to present on concepts of sampling, remixing and reuse. Importantly Jinbonet had founded IPLeft Korea and published the Korean Open Access License (KOAL), which remodelled the Creative Commons licenses for Korean conditions.  c2o / Toy Satellite had been experimenting with Creative Commons through our wireless streaming project and our non-profit record label, Secession. Not only was it the most suitable means to release material online quickly, it provided a format from which ideas could be exchanged, re-contextualised and regurgitated at will – the creative process could grow and so too could culture itself.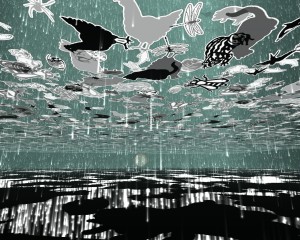 During the forum, under the Intellectual Property Rights Working Group, a cultural content and licensing project was established to "stimulate and protect creative and cultural projects and product in the region." Each participant at the Forum identified organisations in their respective countries that would become member jurisdictions who would establish Creative Commons inspired licences in each country.
Having worked with Jinbonet in the past, we both shared a common purpose towards the broad application of open content licensing, in particular that which favoured the nurturing and maintenance of cultural diversity without the imposition of individual and corporate ownership, typically that which does not recognise the value of difference.
Melbourne, 2005: sample derive
From 2002 to 2003, Toy Satellite designed and produced Derive Machine (D3), an attempt at interpreting situationist theory – "having to do with the theory or practical activity of constructing situations" – into an interactive installation that also explored the re-use of image samples, anecdotal references to the Melbourne CBD. D3 attracted up to 15,000 users in the first three months of its appearance at ACMI.
Toy Satellite's use of Global Positioning Satellite data, re-sampling and re-use concepts coupled with situationist theory and collaborative audio-visual performances attracted the interest of Art Center Nabi, Seoul Korea. They invited us to produce a work that combined all these facets as well as the work we had commenced in the creation of 3D processional narratives.
From here, Synesthesia Urbania evolved as not only a project that introduced Toy Satellite to Korean audiences but provided the platform to commence work on a bi-lingual Creative Commons project in collaboration with Jinbonet, IPLeft Korea and EngageMedia, – all technical developers and media activists developing on online tool towards the distribution of "politically engaged video".

Synesthesia Urbania
From 1 – 12 August 2005, courtesy of the Association for Progressive Communications and ANAT, I visited Seoul, meeting with project partners and identifying artists with whom we would work with –the beginnings of Synesthesia Urbania. During this time, I was better able to understand the extent to which IPLeft has been taken up in South Korea. In 2004 IPLeft Korea launched the Korean Open Access License (KOAL) as part of a "cultural movement for sharing creative networks". Although there are now two Creative Commons projects in South Korea, KOAL has broad appeal largely due to the more political nature of its origins and the cultural communities it now circulates through. Creative Commons Korea is seen to have far deeper academic and legalise origins, which in a Korean context does not necessarily bode well for broad outreach to artists, including filmmakers and writers, musicians and alternative and independent media practitioners.
Meetings with the project's Korean partners (Art Center Nabi, Jinbonet and IPLeft, MEDIAct and Australian Embassy Seoul) highlighted the fact that Synesthesia Urbania has also exposed KOAL to the new media arts community, particularly sound and video artists. It also works to attract members of the Korean cultural community that support the notion of a culture liberated from some of the constraints of conventional copyright licensing.
From these foundations our collaboration began. The first important thing we established, was agreement that all participants would, for this project to start with, sign over their reuse and resample rights to the international community, utilising the equivalent licenses now available in both Korea and Australia. By using EngageMedia's upload server, with both English and Korean interfaces, artists would share their materials via a single project area. It should be understood however, that these components of the project are still under development and at the time of writing, significantly under-funded.
At this stage, assets shared between both groups of artists will consist of stills, video clips, and sounds, recorded with both conventional tools and mobile devices. The latter utilising an MMS (Multimedia Messaging System) being developed and to be integrated within EngageMedia. This will give anyone the opportunity to contribute video clips and images from their mobile phones direct to the project server.
Whilst small teams of artists comb Melbourne and Seoul for materials other artists will harvest the project server for materials to be compiled within the visual and sounds works for performance and installation pieces. By providing these assets under appropriate open access licenses, artists can work quickly and fearlessly providing that their own works are available within the international commons, reciprocating the gesture of all contributors.
This way, one sees our cultural practice as an ongoing work in progress, ever evolving, ever changing, ideas as generative in their origin as they are in execution. Importantly, Synesthesia Urbania will act as a perpetual voice highlighting and celebrating both Korean and Australian culture. It is but the single role of Toy Satellite, perhaps of all artists, to do what we can to disrupt the consequence of mercantile driven globalisation, to deter the ravages of homogenisation, to breath life into and appreciation for difference.
Andrew Garton
Andrew is a Melbourne based multi-disciplined new media artist, writer, performer and composer. He has worked extensively on the establishment of early Internet related services in Australia, the Pacific Islands and South East Asia and continues to work in the region fusing new media technologies with traditional arts and cultural development practice. He is Program Director of OPENChannel, co-founder and Artistic Director of Toy Satellite and Executive Board member of the Association for Progressive Communications. Andrew graduated in 2001 with a Master of Arts in Animation and Interactive Media.
Read More
Synesthesia Urbania – http://www.toysatellite.org/syn-urbania/
IPLeft Korea -  http://www.ipleft.or.kr/
Jibonet Progressive Network – http://www.jinbo.net/
Watch More
Sample 02: Border Song (from Auslaender und Staatenlose)
Visuals: John Power
Music: Andrew Garton
Video re-mix: Andrew Garton
http://www.toysatellite.org/video/SOS/SOS_02.mov
Sample 03: Son of Science (title track from Son of Science)
Visuals: John Power
Music: Andrew Garton
Video re-mix: Andrew Garton
http://www.toysatellite.org/syn-urbania/files/SOS_03.php
This work is licensed under a Creative Commons Attribution-NonCommercial-ShareAlike 2.5 Australia.
Issue 61

Creative Commons Attribution-NonCommercial-ShareAlike 2.5 Australia

http://creativecommons.org/licenses/by-nc-sa/2.5/au/

http://i.creativecommons.org/l/by-nc-sa/2.5/au/88x31.png