Tag:
creative collaboration
June 5th, 2009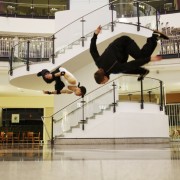 A flicker of movement is caught by a static camera. A hooded figure enters, clinging to walls. The CCTV camera pans out, catches a second figure vaulting an obstacle, zooms in again. Running, jumping, a blur of fluid motion. (more…)
This work is licensed under a Creative Commons Attribution-NonCommercial-ShareAlike 2.5 Australia.