An important part of ANAT's activities is our continuing focus on introducing creative practitioners to emerging technologies with the potential to inform and transform practice. Our approach to programming in this area is three-fold: seed (introductory seminars, exhibitions and publications); grow (skills brokering and skills transfer); and propagate (disseminating outcomes of activity to date, pursuing future production opportunities and contributing to ongoing developments).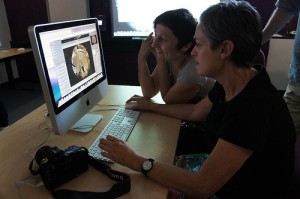 To this end I am thrilled to introduce this latest issue of Filter online, which focuses on Dome Lab 2010 – a week-long, intensive residential lab challenging filmmakers and media artists to create live-action content for large-format immersive screens.
In this issue, we hear from the Lab participants and tutors about their experience of the Lab and how they expect to apply the skills and knowledge they acquired during the week in their future creative practice. But, before we get into specifics, it might be useful to provide a brief overview of the project and why we at ANAT felt it was important for artists and filmmakers to be engaging with this particular emerging technology.
The emergence of 'destination cinema' and the proliferation of large-format screens in public spaces present both a challenge and opportunity to artists and filmmakers working in more traditional screen formats. At the very least a new cinematic language is required: one that takes account of the audience's very different experience of stories presented on 'frameless' screens. Fulldome, with its hemispherical screens and surround-sound, was identified as an accessible and powerful test-bed supporting experimentation and development of this new language.
In short, fulldome and other 'frameless' screens provide what screen-based storytellers dream about – an audience so immersed they become part of the story, an experience so seamless that the story transcends its mode of delivery.
Recent developments mean that we are now at the point where fulldome is emulating traditional digital filmmaking by offering capture and playback technology ranging from budget and low-end systems up to ultra-high-definition and everything in between. This 'democratisation' of the platform has resulted in a rapid increase in fulldome installs and a blossoming of festivals, competitions and exhibition events internationally.
However – and reflecting its provenance – the overwhelming majority of fulldome content to date has been computer-generated animation or data visualisation, with an educational focus. But, in line with the aforementioned increased access to the technology itself, we are now seeing producers turning their sights to the substantially larger (and more lucrative) entertainment market. To further this project, the Lab provided a world-first opportunity to investigate this potential and the specific challenges involved in creating compelling live-action narrative content for large format and frameless screens.
Such research is in its infancy and being pursued by only a handful of people internationally, including our Lab tutors – Academy-Award winner, Ben Shedd, 2010 Peter Rasmussen award-winner, Peter Morse and international fulldome pioneer, Hue Walker. The Lab provided 23 Australian writers, editors, camera operators, producers, sound artists and media artists with unprecedented access to their combined expertise, as well as the opportunity to test its real-world applications.
Artists and filmmakers excited by the chance to leap beyond the frame and into the expansive creative potential of large-format, immersive screen experiences were invited to apply. Participants were selected according to their skill set and professional experience, resulting in four inter-disciplinary production teams, with each team producing a number of quick-turnaround experiments throughout the week. The importance of 'failure' in ANAT's skills transfer labs is key, with a focus on trial-and-error prioritising risk-taking and experimentation over and above 'finished product'. As well as the following articles, please check out the flickr stream and the four short genre films completed during the Lab – they really are testament to the talents of the participants who went from newbies to applied researchers in a single week!
In closing, I would like to put on record ANAT's sincere thanks to those who made the Lab possible: Paul Bourke and the Western Australian Supercomputer Program at the University of Western Australia; Michelle Glaser and the WA Department of Culture and the Arts; Kon Goroutis and the Visual Arts Board of the Australia Council; Mike Cowap and Screen Australia and the wonderfully supportive folk at Screenwest and Screen Development Australia. Finally, without the incredible generosity and commitment of both the tutors and participants the Lab would not have been the success it was – so thank you!
Vicki Sowry
Program Manager, ANAT
Read More
http://domelab2010.anat.org.au/
Watch More
Dome Lab 2010 – Don't Talk To Me

Dome Lab 2010 – Tell Your Friends

This work is licensed under a Creative Commons Attribution-NonCommercial-ShareAlike 3.0 Australia.
no

Creative Commons Attribution-NonCommercial-ShareAlike 3.0 Australia

http://creativecommons.org/licenses/by-nc-sa/3.0/au/

http://i.creativecommons.org/l/by-nc-sa/3.0/au/88x31.png

Issue 76