In this, our first exclusively digital issue of Filter, we contemplate the complex issues many publishers are currently facing. Do digital enhancements improve the experience of reading? Is digital really carbon neutral? Has paper had its day?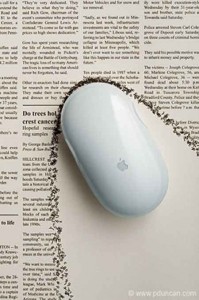 While the print version of Filter will always hold its unique and endearing quality, it also comes with a use by date and the loss of dialogue flow. As fresh issues were released, new projects, people and innovations took the spotlight and older issues receded to the back of our minds and bookshelves. Filter's new digital home is our way of declaring that we still believe that those discussions, articles and topics are pertinent to today's innovative and creative societies. We give the information back to the community for digesting, forwarding, commenting – and we hope you enjoy!
With the launch of 'Google Fast Flip' earlier this week, we see yet another example of publishers digitising information to match the seemingly growing preference for online content. 'Fast Flip' is an online platform that aggregates content (from numerous influential partners including The New York Times, The Washington Post, Tech Crunch and Business Week) resulting in a site that allows users access to vast quantities of content in one place in a digestible format. As the principal prototype inventor Krishna Bharat comments, '…It's the convenience and speed of rich online news content with the hands on control of a print magazine experience'. With the service also available on some mobile handsets, the potential for the digital world to provide us with instant information seems easier than ever.
Do digital versions of magazines provide a transitional product/world between paper and the web? Do digital enhancements improve the experience of reading? Do page-turning technologies provide users with the same experience? Perhaps the burning question is what is the purpose of digitising print? Is it to allow the continuation of the reader experience? Or to give content its dues online?
Although for Filter it means the loss of the tactile experience of print, in all other ways the site remains true to the same reading experience and we hope you enjoy the articles contained within this issue as much as we have enjoyed cultivating them. Sean Cubitt highlights concerns around the infrastructure and environmental impacts of cloud computing (with its alluring promises), server farms and personal Internet usage. Megan Patty delves into the user preference of the written word; Julian Stadon discusses the importance of digital archiving to contemporary arts practice, while Sarah Langston-Lally explores the addictive and tangible experience of Zine culture.
Reporting on ANAT programming Gavin Artz questions art and living cultures; Vicki Sowry showcases the international keynote speakers at Super Human: Revolution of the Species, while Sarah Last continues her advocacy for the arts of sound.
While the early adopters, the true digital natives of the net have been active here for eons, I can't help but wonder if we are meant to be connected all of the time. If the whole world were active online, would we see an infrastructure overload or could it result in a truly connected world?
Amanda Matulick
An enthusiastic 'geek-in-learning', Amanda's passion for digital communication and online environments has seen her transition Filter Magazine from hard format into digital, optimising the amount of value added content. As well as managing ANAT's communications and marketing strategies, she is regularly invited to speak and write about the impact of digitisation on arts publishing.
Read More
http://fastflip.googlelabs.com/
Watch More
When Google's founder Larry Page said "imagine if using the web was as simple as flipping the pages of a magazine", he inspired Google inventors to create the 'Google Fast Flip' service, which aims to improve the user experience of searching by aggregating information from numerous publication partners, improving search and result display functions.
This work is licensed under a Creative Commons Attribution-NonCommercial-ShareAlike 2.5 Australia.
Issue 71

Creative Commons Attribution-NonCommercial-ShareAlike 2.5 Australia

http://creativecommons.org/licenses/by-nc-sa/2.5/au/

http://i.creativecommons.org/l/by-nc-sa/2.5/au/88x31.png