The Living Screen is a moving image installation by Bio-Kino (Tanja Visosevic, Guy Ben-Ary and Dr. Bruce Murphy) that anticipates a new interplay between spectator and screen. The artwork is a living cinematic apparatus operated via the Bio-Projector, an experiment in screen evolution.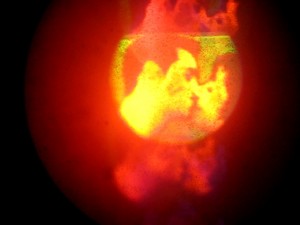 The Bio-Projector (modelled on the first working prototype of the Kinetoscope) houses a digital projector, digital player, microscope and multiple optical lenses. The system miniaturises the digital movie to 500 microns in size (approximately half a millimetre) and projects it onto a living micro-screen made from individual biological cells. The living screens, grown from varying tissue or cell cultures, react, transform and eventually die, contorting the projected nano-movie and confronting the spectator with effects such as actuality and virtuality.
Each living screen is symbolic and symbiotic in a different way. The properties of these screens conceptually inform the content of the projected movies, making direct use of cinema's heritage as a means to critically and aesthetically reflect upon the cinematic experience. For example, Bio-Kino's The Screen Kiss (2008) was produced for the living screen made from semen — a remapping of Thomas Edison's The Kiss (1896) with a semen screen that reframes Andy Warhol's Blow Job (1963).  By conjoining the digital with the biological, The Living Screen manifests a paradox, a mixed reality, which extends towards a new mode of representation.
Dominant cinema is being challenged and the moving-image culture redefined by contemporary digital-media art.  Through digital interactivity, current art practice expands beyond the traditional spectator-spectacle relations, often by extending creative control to the audience.  Digital expansion has led an evolution in cinema. The Living Screen shares the same artistic objectives of much contemporary cine-art – to deconstruct traditional cinematic forms that impose ideological constraints and participate in the creation of a new poetics. However, The Living Screen's technical and formal strategies go beyond the digital by introducing the biological. Its screen is alive!  From kino-eye to bio-kino, The Living Screen is a biologically as well as digitally expanded cinema.
Endnote: The writer owes the inspiration of this text to "Digital cinema and the history of a moving image" by Lev Manovich.
Bio-Kino
Bio-Kino was established in 2005 by Tanja Visosevic (a performance/moving image artist) and Guy Ben-Ary (new media artist). Shortly thereafter Bruce Murphy (engineer) joined the group. Bio-Kino is exploring the various interfaces between moving image, film and film theory to Biotechnology. The Living Screen is the main project initiated by Bio-Kino and was developed and hosted by SymbioticA–The Centre of Excellence in Biological Arts.
Read More
This work is licensed under a Creative Commons Attribution-NonCommercial-ShareAlike 2.5 Australia.
Issue 70

Creative Commons Attribution-NonCommercial-ShareAlike 2.5 Australia

http://creativecommons.org/licenses/by-nc-sa/2.5/au/

http://i.creativecommons.org/l/by-nc-sa/2.5/au/88x31.png