Category:
Research Papers
May 24th, 2011
Jonathan Duckworth and Assoc. Prof. Peter Wilson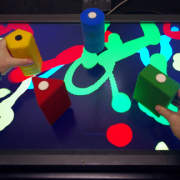 Abstract: In this paper we explore the nature of embodied interaction and play within the context of designing an interactive art system for movement rehabilitation. (more…)
This work is licensed under a Creative Commons Attribution-NonCommercial-ShareAlike 3.0 Australia.